April 7-May 6, 2018
Turn into a Ninja!
At the Ninja Henshin Dokoro (the Ninja makeover station), you can turn into a Ninja.
All sizes of Ninja costumes are available from children to adults.
1,000yen or over per person

The following are the 15 stations where you can dress up as a Ninja.
The biggest Ninja makeover station on weekends is in Haitopia Building (in front of Ueno-shi Station, during April 21 - May6).
The" numbers" are shown on the map.
::: The Ninja makeover stations list :::
Haitopia 5F (April 21 – May 6)
The biggest Ninja makeover station on Saturdays, Sundays and holidays
10:00-16:00

Danjiri Museum
The main Ninja makeover station for weekdays
Everyday ex. April 22( or 29, if rain on 22) 10:00-16:00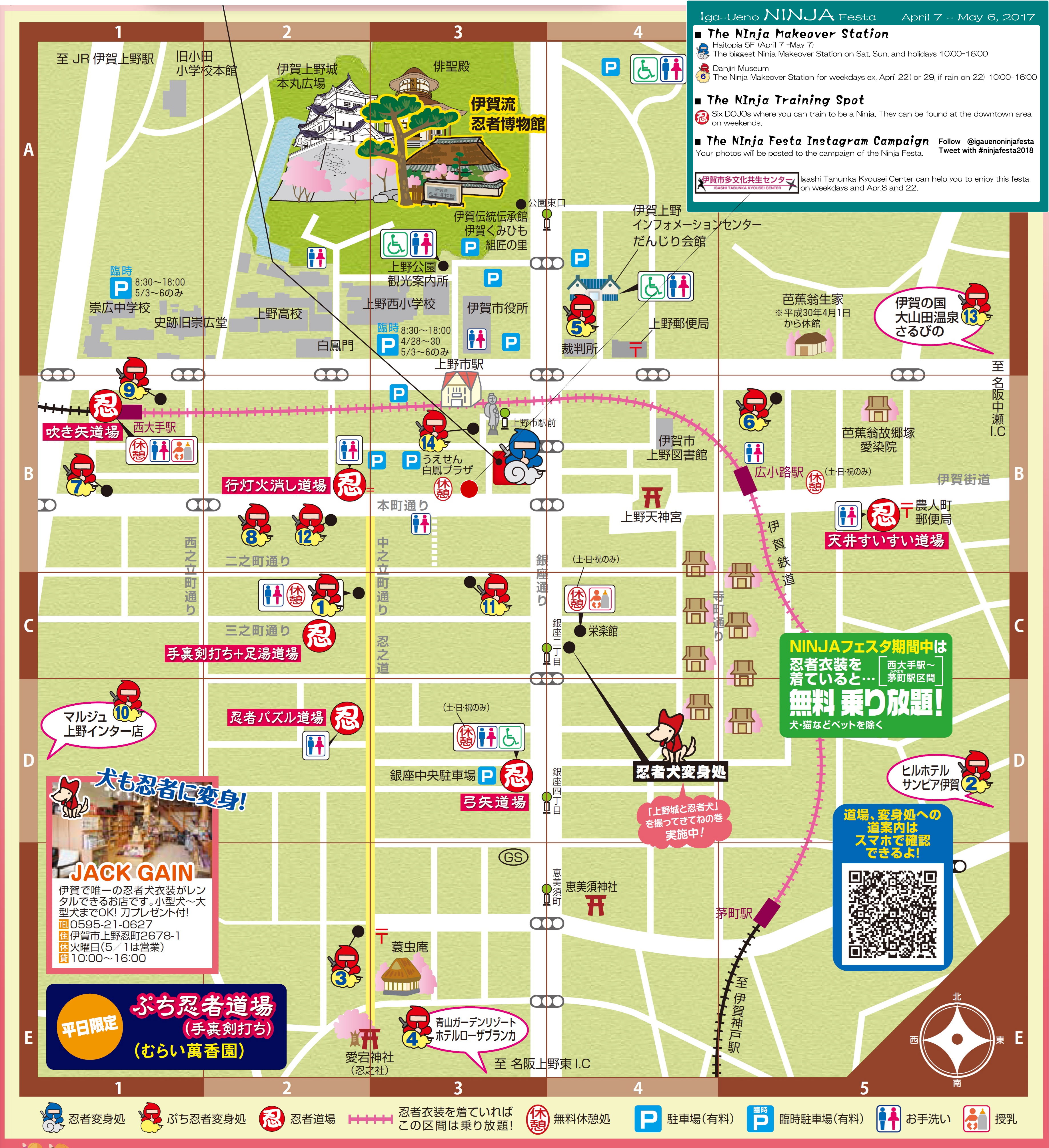 Murai Bankou-En
Weekdays 9:00-19:00

Hill Hotel Sanpia Iga
Everyday 10:00-19:00


Iga-Ryu Ninja Shop

Everyday ex.Wed. 9:00-17:00

Reservation required on weekends

Hotel Rosa Blanca Aoyama Garden Resort

Everyday 10:00-17:00


Yo-Kan-Zuke Miyazaki-ya

Everyday 10:00-16:00


Mita-Shin

Everyday ex.Thursday (but May 3) 9:30-18:00


Wakura no Yado Hotel :Root inn Grandia Iga-Ueno

Everyday 10:00-17:00


Kyou Yume Sakura
Everyday ex.Monday and April 15 10:00-16:30
Maruju Ueno IC shop

Everyday 10:00-17:00


Ikoi no Yakata
Everyday ex.odd-numbered day 10:00-16:00

Mode Shop Mikiya
Everyday ex.Monday (but April 30) 9:30-19:00

Sarubino Oyamada Onsen
Everyday ex.Monday (but April 30) 10:00-17:00

Someju Iga-Ueno

Everyday 10:00-18:00